We are, at the core, an investment research company, building strong investment convictions and implementing them in concentrated, growth-oriented thematic portfolios.
Conviction-driven
Through of thorough research and our strong convictions, our investors participate in the significant upside potential of our thematics.
atonra products display low correlations with many financial products, allowing our clients' portfolios to be truly diversified.
---
Fundamental, scientific, and industrial research is at the core of our DNA
---
Our investment process explained
We follow five investment steps that allow us to build well-researched, growth-oriented thematic portfolios.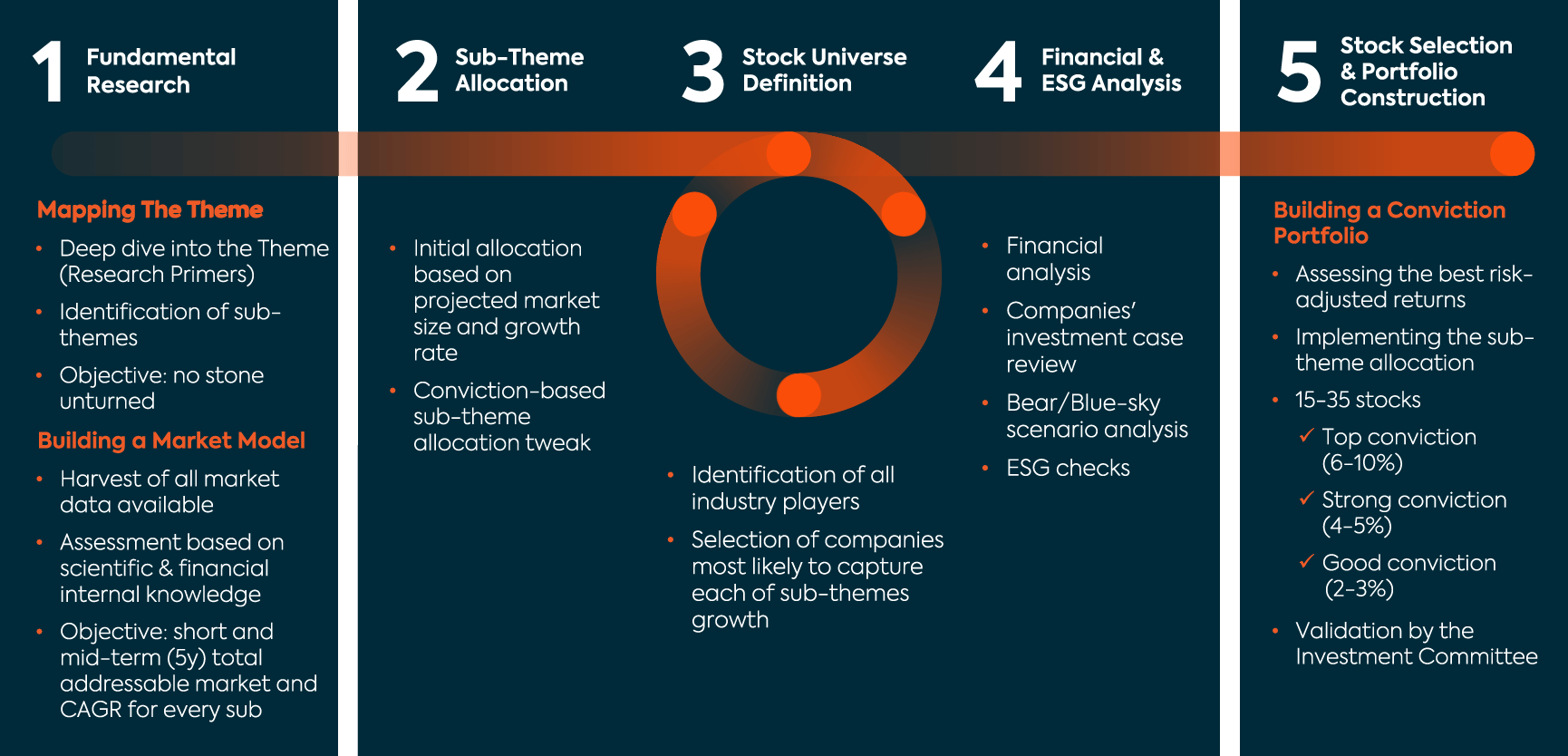 Mapping The Theme
Deep dive into the Theme (Research Primers)
Identification of sub-themes
Objective: no stone unturned
Building a Market Model
Harvest of all market data available
Assessment based on scientific & financial internal knowledge
Objective: short and mid-term (5y) total addressable market and CAGR for every sub-theme
Initial allocation based on projected market size and growth rate
Conviction-based sub-theme allocation tweak
3
Stock Universe
Definition
Identification of all industry players
Selection of companies most likely to capture each of sub-themes growth
4
Financial &
ESG Analysis
Financial analysis
Companies' investment case review
Bear/Blue-sky scenario analysis
ESG checks
5
Stock Selection &
Portfolio
Construction
Building a Conviction Portfolio
Assessing the best risk-adjusted returns
Implementing the sub-theme allocation
15-35 stocks

Top conviction (6-10%)
Strong conviction (4-5%)
Good conviction (2-3%)

Validation by the Investment Committee
Focused on growth themes
Our offering is sharply focused on several key growth themes. We strive at identifying early signs of upcoming strong trends and take full advantage of them by investing accordingly. Seizing them requires dedicated expertise.
Contact